staleysupholstery@gmail.com
Monday - Tuesday: 9AM to 6PM
Wednesday: By Appointment Only
Thursday - Friday: 9AM to 6PM
Saturday & Sunday: Closed
Auto Upholstery
Here at Staley's, we cover everything automotive! From the dash to the trunk, or the carpet to the tonneau (truck-box) cover, and everything in between. Full custom work, to matching original material, Staley's has your back.
If a seat has a ripped seam, weak foam, burn marks, stains, broken plastic, ECT... we can match the material and replace/repair the effected areas.
Plastic welding is a new service we offer! Chances are, we can fix broken plastic interior (and some exterior) parts on your vehicle or ATV for less than buying new. Ask us about it!
We work with dozens of manufacturers and suppliers to provide you with the best automotive interior products on the market.
The above picture is from a 91' Ram Charger; full custom interior!
Sound-proofing and embroidery also available!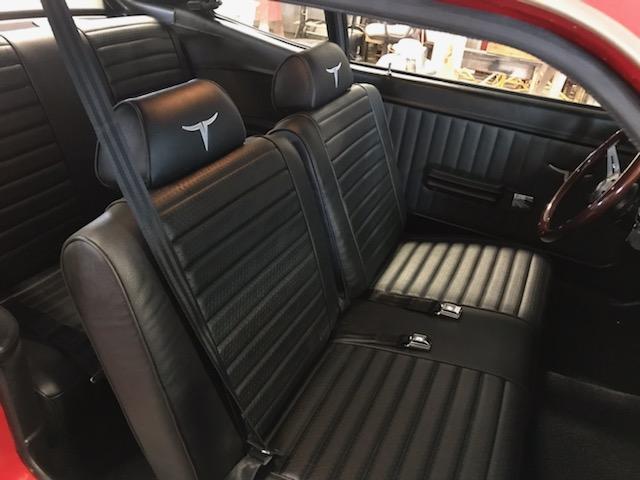 Commercial and Restaurant Seating
What customers first notice when entering a restaurant, bar, or any commercial establishment, is the condition of the seating! Whether it be a waiting area, or a line of bar stools, the customer's first impression is important!
We offer services to complete projects while you are closed, to eliminate any down-time. From simple re-covering to custom seating with embroidery, Staley's will make your establishment high-class!
Call us for a quote today!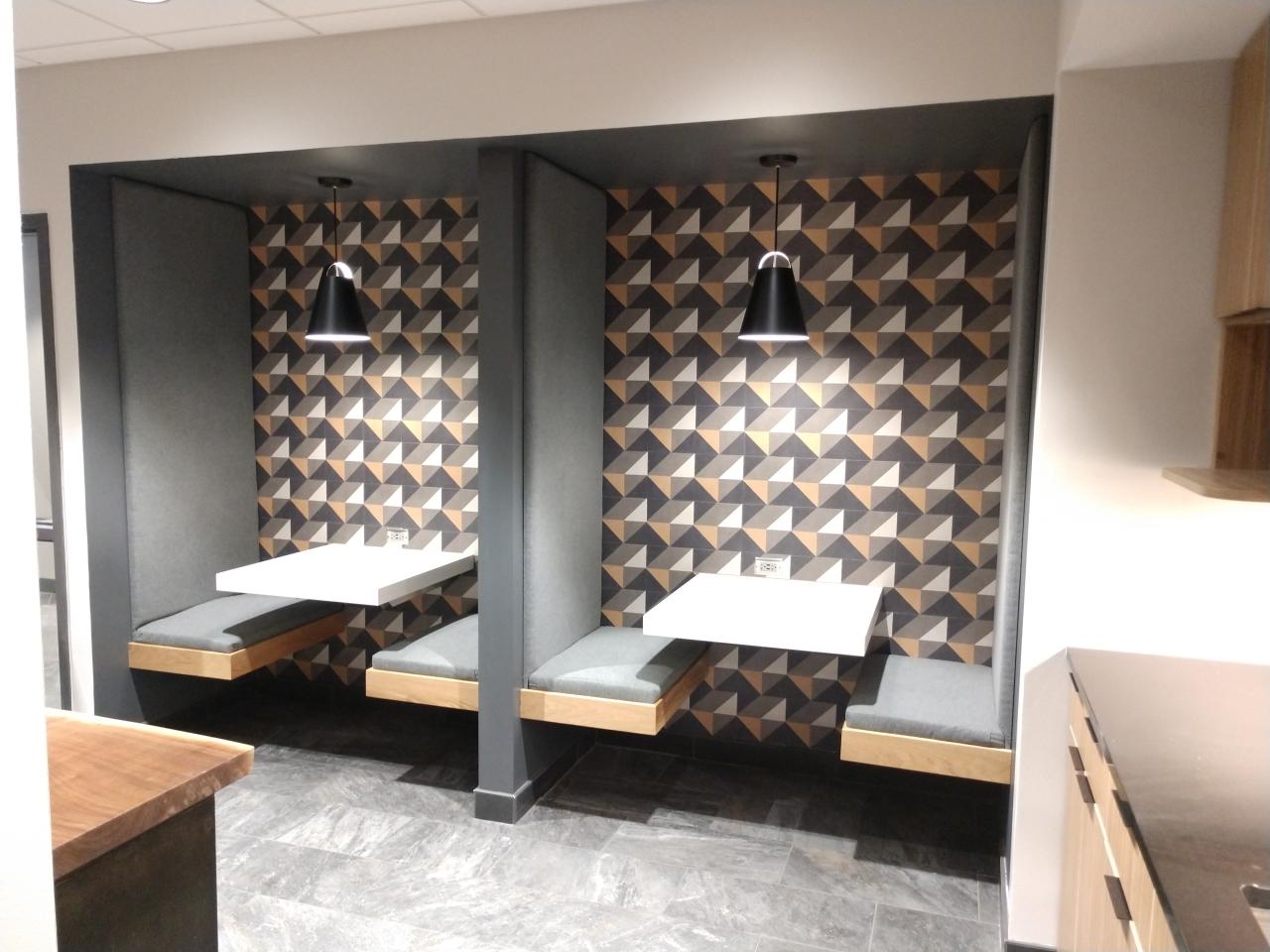 Antique and Home Furniture
At Staley's we offer full restoration for antique furniture, and home furiture. With thousands of vinyl, leather, suede, and cloth fabrics to choose from, have your furniture recovered and refurbished instead of buying new!
Now days furniture tends to be made 'cheap' in factories with assembly lines. They cut costs with low grade fabrics, replace foam-rubber with synthetic cotton, and use compressed wood chips and particle board. In 3-5 years when it starts falling apart, you will spend another $600-$1500 to buy new again! The old couch in your living room might have wear and 'dead spots' in the cushions, but is likely built with wood, heavy springs, and foam rubber. Recovering old furniture is less expensive in the long run!
The above picture is a futon manufactured in 1922 fully restored, and an antique rocker to match!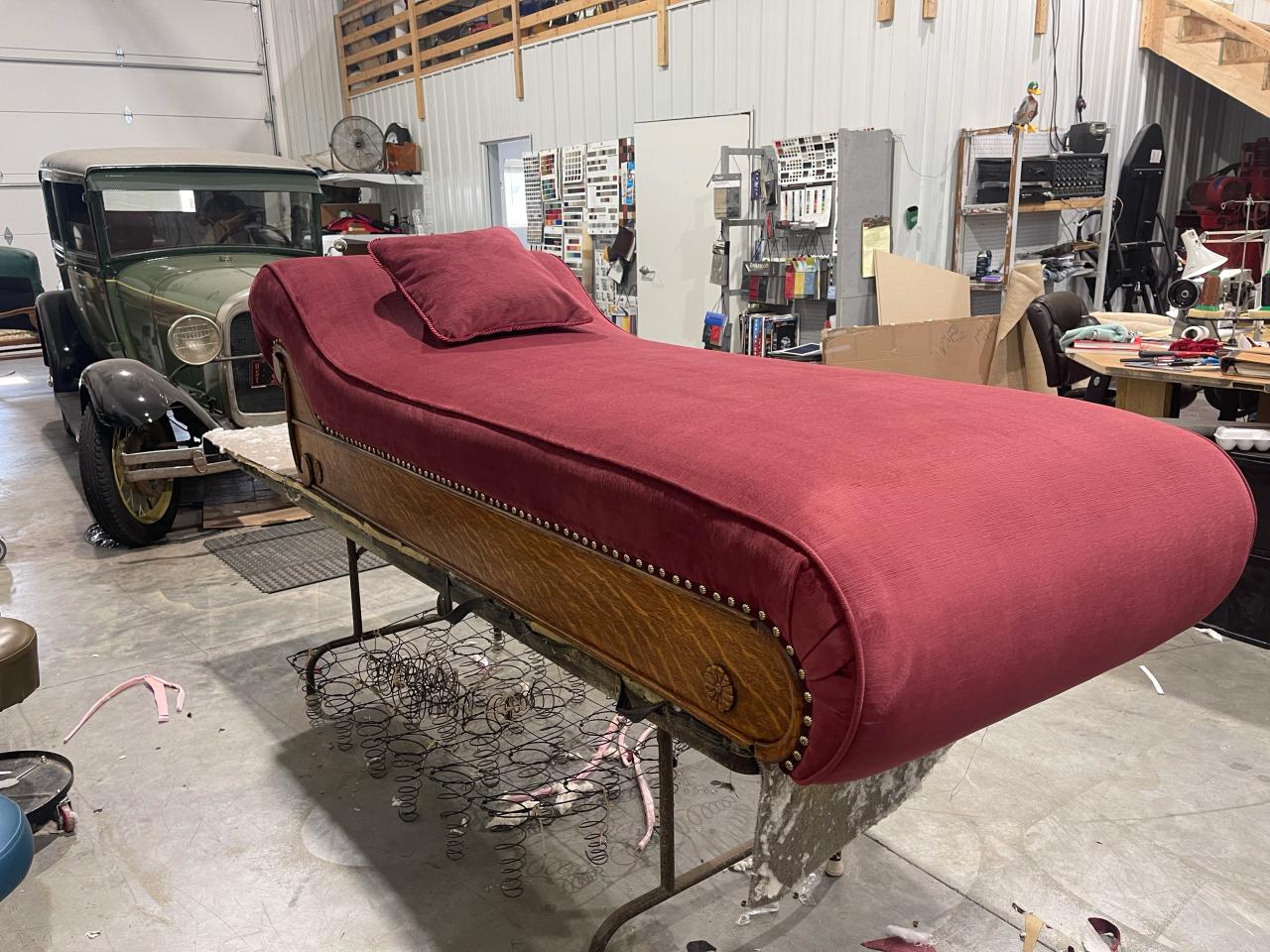 Sporting Equipment
(Custom and Repair)
We repair hunting blinds, ice-fishing houses, and most other sporting or camping equipment. If you find a mouse made a home in your hunting blind, ice house, pole bags -or anything else- we can likely repair it!
The above picture is a custom snowmobile seat from a 1994 Polaris Indy Storm.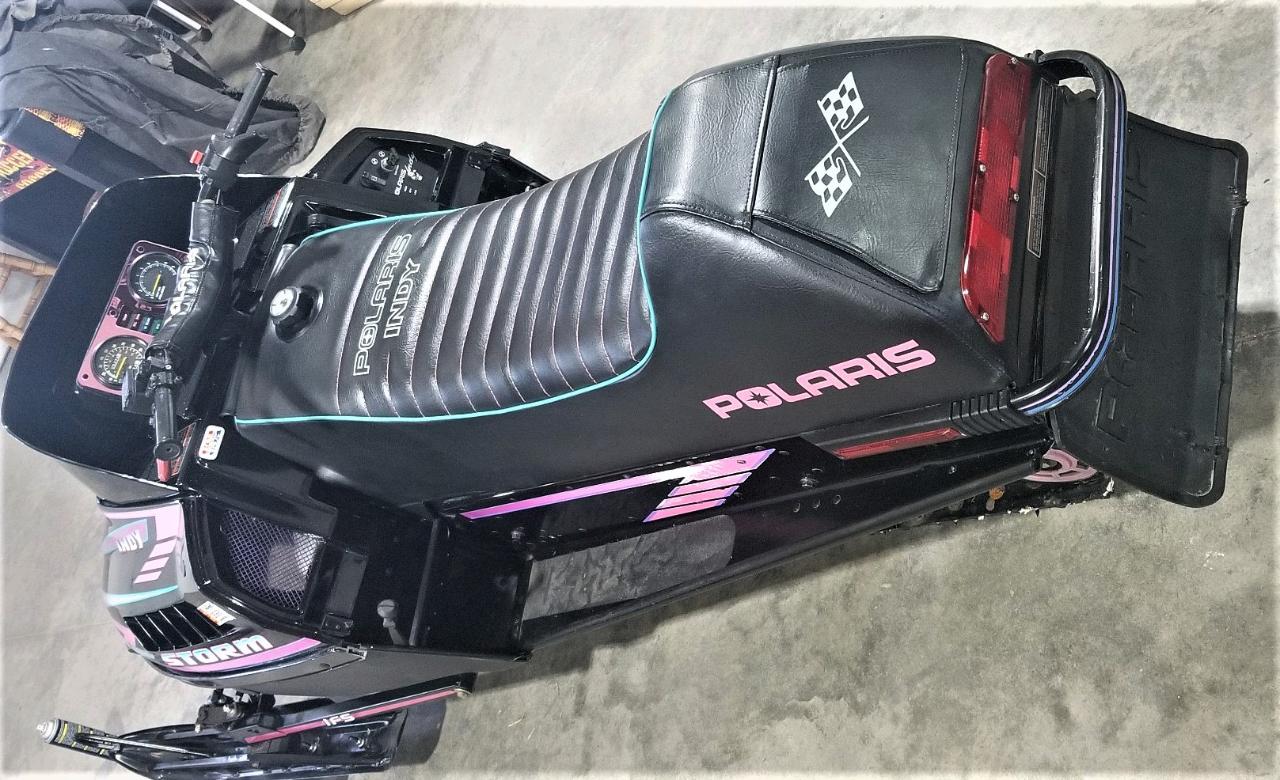 Custom Upholstery
We enjoy being creative, and turning your ideas into something worth bragging about!
Here at Staley's we thrive on creativity. We can make/create/build anything from fish house & hunting blind customization, custom-fit weather-proof covers for construction equiptment, custom furniture, to complete custom automotive interiors. We provide solutions & creative unique designs for a wide variety of situations.
We have an upholstery master in training! 1936 Dodge D-2 custom headliner (in progress) in the picture.